If you are interested in the creation or optimization of websites, there is a term that you could not miss: "SEO", for "Search Engine Optimization". Although this activity has existed for more than 20 years now, it seems to be becoming more and more fundamental in companies' traffic acquisition strategies. We will therefore see in this article not only what SEO is, but also, and above all why it is a crucial element of a successful digital strategy.
In Switzerland, Google represents more than 90% of searches made online – so we will mainly focus on this search engine in this article. A future article will be the subject of a comparison between the different search engines.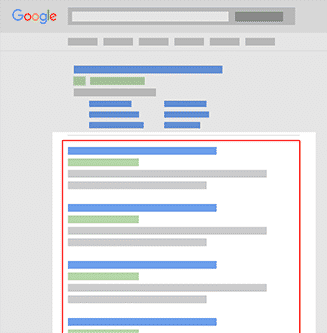 What is SEO?
So let's start with a definition of SEO. And for that, let's go to Wikipedia which indicates:
Search engine optimization (SEO) is the process of improving the quality and quantity of website traffic to a website or a web page from search engines. SEO targets unpaid traffic (known as "natural" or "organic" results) rather than direct traffic or paid traffic. Unpaid traffic may originate from different kinds of searches, including image search, video search, academic search, news search, and industry-specific vertical search engines.

Wikipedia
In other words, it is a content optimization process with the goal of getting your site discovered through the organic search results of a search engine. If you are not an expert in the field, this definition contains several new concepts that are important to understand, so let's review them quickly.
What is a search engine?
A search engine must be designed as a huge library that would have two main missions: to accumulate as many sources as possible and to be able to present the most relevant sources to visitors who request access to specific information.
When you submit a query to a search engine, it searches for the most relevant answers to display them to you. These answers can also be in different formats depending on your request: web pages, images, videos, social network articles, files, etc.
What is an organic search result?
When you display a search results page, you have access to two main categories of results: those for which the website has paid the search engine to be displayed (these are paid ads), and those for which it is impossible to pay directly and it is the search engine alone that decides the order of display. These are called "natural" results or "organic" results.
Why is SEO a content optimization process?
In the end, everything you see on the internet is content. Optimizing the content does not necessarily mean rewriting everything: the way of presenting the content, the tools and techniques used, and the media used are just as important. Working on SEO is ultimately about making content more easily accessible to people interested in that content, by all means. It's a long-term job, and above all, it needs to be updated regularly (Google updates its search algorithm nearly 500 times a year).
So finally, what is SEO? It is the set of activities carried out to improve the ranking of your site in the organic search results of Google (or any other search engine). These activities can be broken down into four main categories that we will discuss more specifically in a future article: keyword research, On-Page SEO, Link Building, and Technical SEO. It is all of these activities that will make your site stand out and gain visibility in search results.
Why is SEO important?
To understand the importance of SEO, you have to start by understanding the importance of search engines in our daily lives. Here are some public statistics that we have selected:
It is estimated that Google now responds to more than 67,000 queries per second, or nearly 5.8 billion searches per day
93% of online experiences start with a search on a search engine
Nearly 80% of users ignore ads at the top of the search results page, and focus on organic results
89% of buyers (online and in-store) start their buying process with an online search
Once you understand the role that a search engine like Google can play in consumer habits today, you understand better why being visible and correctly referenced is a crucial issue for your development. It is also often considered that SEO is the acquisition channel with the best return on investment because the actions carried out have long-term impacts and make it possible to reach users who are genuinely interested in your services since they are precisely looking for them the moment they see your content.
Conclusion
We often hear that "In the world of retail, the three most important decisions are location, location, and location". If this rule is well understood in the physical world, it applies just as well to the visibility of your website and your online services. Google is by far the most visited website in the world: being visible on Google, therefore, becomes a major challenge to gain visibility with your key audiences, and therefore develop your business. This applies as well whether you sell services online or not, the digital world (and in particular the web) is now part of the daily life of your customers. It is therefore crucial that they can find you there easily. And that is precisely what SEO is for, and why it is so important.
Interested in finding out more? We support you throughout your SEO strategy and in its execution from A to Z, with ease: discover our SEO services, or contact us directly to talk about it and receive a tailor-made support proposal.